Discover more from Friendly Atheist
Commentary about religion and politics, centered around atheism.
Over 8,000 subscribers
The Southern Baptist Convention's move to expel Saddleback Church will backfire
The church founded by Rick Warren was kicked out of the SBC for having a woman pastor
I would greatly appreciate it if you became a full subscriber! You can use the button below to subscribe to Substack or use my usual Patreon page!
---
The Southern Baptist Convention, which failed to kick out churches that employed sexual predators, has now expelled its most famous church for having a female pastor.
Saddleback Church, founded by Rick Warren, is no longer welcome in the SBC, after the Executive Committee decided it was no longer adhering to the He-Man Woman-Haters Club rule:
The Executive Committee's motion said that Saddleback "has a faith and practice that does not closely identify with the Convention's adopted statement of faith, as demonstrated by the church having a female teaching pastor functioning in the office of pastor."

Saddleback has the right to appeal the decision at the Southern Baptists' next annual meeting, scheduled for New Orleans in June. It did not respond immediately to requests for comment on the Executive Committee decision.
The decision comes years after Warren ordained three female pastors (for roles not quite at the top of the hierarchy). The problem now is that Stacie Wood, the wife of Andy Wood, the man replacing the now-retired Warren, is serving as a teaching pastor. (Saddleback was one of five churches kicked out yesterday for elevating women in leadership.)
Wood told The Associated Press last year that the Bible "teaches that men and women were given spiritual gifts by God." His wife has served as teaching pastor for Saddleback.

"The church should be a place where both men and women can exercise those spiritual gifts," Wood said. "My wife has the spiritual gift of teaching and she is really good. People often tell me she's better than me when it comes to preaching, and I'm really glad to hear that."
In a normal world, none of this would be controversial. We could argue over the content of the sermons rather than the drama involving the person delivering them. But Southern Baptists aren't known for taking the rational approach. And they certainly aren't interested in maintaining camaraderie with a church that threatens their entire business model.
The SBC has sometimes booted churches for sensible reasons like being too racist or harboring sexual predators. They've also expelled churches that were too LGBTQ-friendly, which is idiotic but at least in line with conservative Christian bigotry. But it's a lot harder to justify to potential converts why they're kicking out one of the largest megachurches in the country for elevating a woman to a position of authority.
Keep in mind that Andy Wood himself is transphobic and was oblivious to the spiritual abuse of self-appointed alpha preachers like Mark Driscoll. There were allegations of his own abusive ways:
Andy Wood also was the subject of a separate inquiry ordered by Saddleback after allegations surfaced of him being an abusive leader at his previous church. In July, the megachurch's elders announced after investigations by two firms that they determined "there is no systemic or pattern of abuse under Andy's leadership, nor was there an individual that we felt was abused."
There are so many good reasons to criticize Wood and the church! A woman preaching isn't one of them.
This is all coming at a time when the SBC's public image is in ruins and membership is in steep decline. Back in October, the new SBC president even appeared on 60 Minutes to defend an organization whose member churches are currently being investigated by the Department of Justice for their mishandling of sexual abuse cases.
For all of Rick Warren's faults—and there are plenty—telling women they're capable of spreading the Gospel seems to be the sort of thing that would draw in more Christians than it alienates. No wonder the SBC can't handle it. They're experts at finding new ways to push people out of the faith.
As sociologist Ryan Burge pointed out, most evangelicals have no problem with a woman preaching: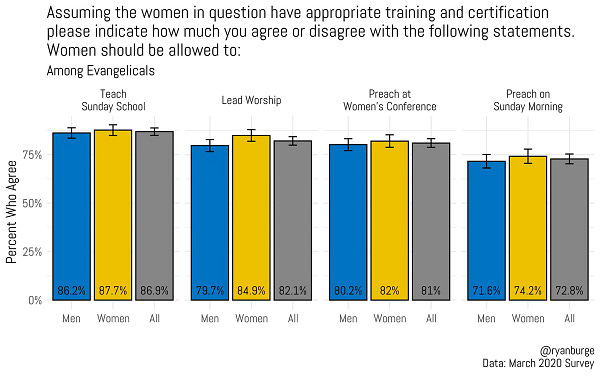 Religion News Service
@RNS
Breaking: Saddleback Church, the megachurch long led by Rick Warren, has been ousted from the Southern Baptist Convention for naming a woman to its pastoral team, against SBC teaching. https://t.co/CHqxuKt334
If you belong to an organization that wants to force underage girls to bear their rapists' babies but can't handle a grown woman in the pulpit, then you're part of the problem.
Saddleback should be celebrating their expulsion. Without even really trying, they managed to get rid of the worst aspect of their church: the affiliation with the SBC. The members of Saddleback had no problem with female pastors. It's not like the megachurch will suffer as a result of yesterday's decision.
This is just another self-inflicted wound by SBC leaders who care more about defending patriarchal traditions than possibly bringing new members into the fold.