Discover more from Friendly Atheist
Commentary about religion and politics, centered around atheism.
Over 7,000 subscribers
Siberian Jesus Arrested for Abusing Cult Members
Putin isn't taking on apprentices
Donald Trump is slated to announce his Supreme Court pick this Saturday, and Democrats have reasonable questions for his potential nominees regarding their ability to separate their Catholic faith from their legal rulings. This cautious examination of impartiality is being weaponized by conservatives, who claim Democrats are "anti-Catholic" - a transparent attempt to fabricate strife between Catholic voters and Democratic candidates ahead of the election.

To squash that notion now, here's a list of prominent Catholic Democrats:
But if you are "anti-Catholic" - or at least anti-child abuse, anti-forced birth, anti-homophobia, anti-state sponsored religion, anti-make believe - here's some really good news for you: Germany's largest archdiocese is scaling down churches from 500 to 50, largely due to staffing issues. As it turns out, it's hard to find men grown men to run these churches when you take their freedom to have sex off the table. The Catholic Church would rather atrophy than loosen up on the rules.

According to Pastor Robert Jeffress, the deaths of 200,000+ Americans are "background noise" now that there's a Supreme Court vacancy. There's only one word that I can type that would adequately pacify the fury felt in my chest after reading this tweet: VOTE.
The world is burning, a pandemic is raging, racial tensions are peaking, yet some Republicans are stressing over what's between school children's legs when it comes to public school sports. Georgia Senator Kelly Loeffler & her GOP friends have introduced a bill to block federal funding for schools that allow transgender girls/women to play on sports teams with other girls and women, slyly named the "Protection of Women and Girls in Sports Act of 2020." I'd really like to believe the GOP is finally showing up to protect women, but please, not as a veil to discriminate against LGBTQ people.

A research group in Canada has concluded that religion is a societal positive because it contributes $67.5 billion to the country's economy. But you can't count your hits without counting your misses; religion results in big bills, too, as Friendly Atheist has pointed out before.
A Siberian man who claims to be the voice of God, looks like Jesus, has several thousands of followers, and has banned everything but falling in love was arrested by a Russian investigative committee for organizing an illegal religion. Vissarion, as the wannabe messiah is known, is accused of extorting money from his followers and subjecting them to emotional abuse. Okay, clearly it's a cult and it deserved to be shut down, but is it surprising to anyone else that Russian authorities wanted to draw a line in the sand against tyranny and they drew it at this guy?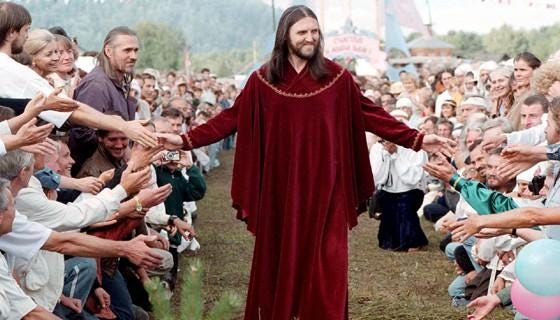 Finally, how do we give an award to these churchgoers?



Depends what the signs say, I guess…